---
After a two-year pause, the Lewisburg Arts Festival returns on Saturday, April 30, and the Lewisburg Arts Council invites you to come celebrate with us!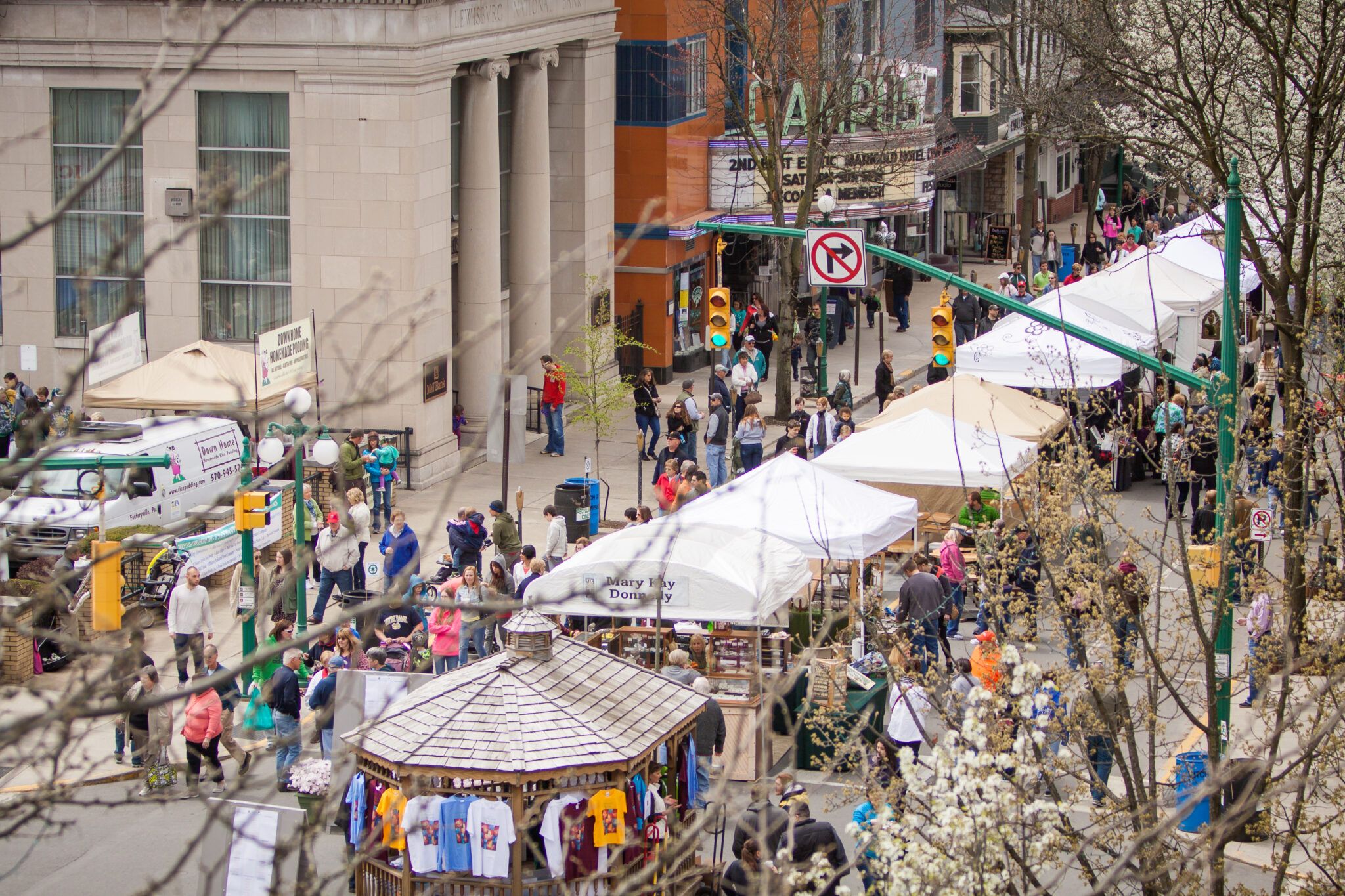 After a two-year pause, the Lewisburg Arts Festival returns on Saturday, April 30, and the Lewisburg Arts Council invites you to come celebrate with us!
This year's Arts Festival will feature the things you've always loved … and hopefully offer even more to enjoy!
Juried Art –  One hundred artists' booths will line one side of Market Street from Front to Seventh Street.  Many of the artists are returning favorites, but nearly one-fifth are new this year.  Our juried show means only the best hand-crafted items are offered for sale – nothing is mass-produced or factory-made.  You'll find art for your home, art to wear, and art to just enjoy!

Food – What's a festival without food?    This year, with three food courts instead of two – including a "mini" on North Third Street – you'll be able to eat your way from one end of the Arts Festival to the other!  Whether you're craving savory or sweet, with 26 food vendors (including 5 new ones!), we've got you covered!  Bon appetit!

Artisanal Food – Interspersed along Market Street will be 15 Artisanal Food vendors, the most we've ever had!  These offer take-away edible items, everything from baked goods and salsas to wine and beer.

Entertainment – Take a break from shopping and eating to enjoy our free entertainment by the Post Office (South Third Street), with performances beginning at 10:30, noon, 1:30, and 3:00. 

10:30 – 11:30 am:  Lewisburg High School Jazz Ensemble

12:00 – 1:00 pm:  DK Dance Company

1:30 – 2:30 pm: Tir Na Nog School of Dance

3:00 – 4:00 pm:  Downtown Dance




Interactive Alley – See art in action on North Third Street, where you'll find a caricaturist, face painting, balloon art, and more!  Need a respite from the bustle? Stop by our perennial-favorite petting zoo, Ashburn's Animals, in the parking lot next to Cole's Hardware for a four-legged cuddle.  And, while you're in the neighborhood, visit the Murals of Cherry Alley!

Festival Shuttle – Hate the hassle of looking for a parking space?  Thanks to the generosity of the Susquehanna River Valley Visitors Bureau, you can park in their spacious lot (next to Country Cupboard), and let the Festival Shuttle whisk you into town!  Shuttle buses will run from 9:30 AM to 5:30 PM, so you won't miss a minute of the festival itself.  And, with four shuttle stops in town – including ones at each end of Market Street – your tired tootsies will thank you during the trip back to your car!

Valet Bicycle Parking – Ride your bicycle to the Mifflinburg Bank parking lot at 5th and Market, and Earl's Bicycles will park it and protect it for you while you enjoy the festival.

Comfort Facilities – Thanks to Evangelical Community Hospital, we will have "blue loo" comfort facilities, each equipped with hand sanitizer dispensers, tucked into convenient corners throughout downtown. In addition, hand-washing stations will be available at all three Food Courts.
This is just the first day of a two week long Celebration of the Arts
Go to https://lewisburgartscouncil.com/celebration/ to see all the activities going on over the first two weeks of May and to register for workshops!