Summer Book Sale - Public Library for Union County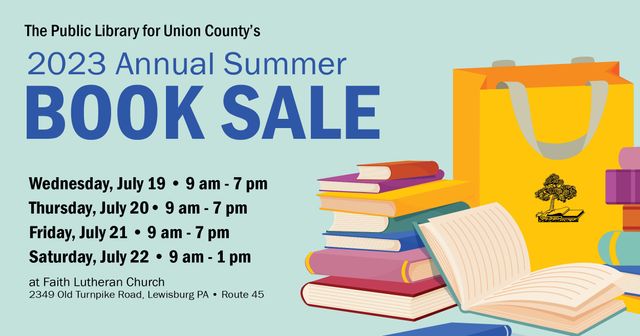 Description
The Public Library for Union County's annual book sale is scheduled for Wednesday, July 19 through Saturday, July 22 at Faith Lutheran Church, 2349 Old Turnpike Road, Lewisburg (Route 45).
More than 20,000 items are for sale including sorted hardcover, paperback, audiobooks and vintage books, as well as DVDs.
Books are sold for $25 per bag and bags are provided by the library.
The church is air-conditioned and has an accessible entrance.
The hours for the sale will be Wednesday, Thursday, and Friday from 9 am to 7 pm and Saturday from 9 am to 1 pm.
Faith Lutheran Church
2349 Old Turnpike Road, Lewisburg, PA 17837
Private:No
RSVP Required:No
Accept Registration Online:No
Originally posted by Public Library for Union County via Locable
Other Upcoming Instances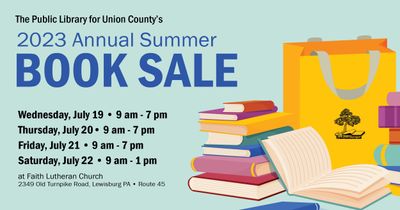 Summer Book Sale - Public Library for Union County
2349 Old Turnpike Road
Lewisburg, PA 17837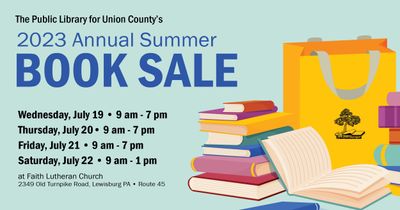 Summer Book Sale - Public Library for Union County
2349 Old Turnpike Road
Lewisburg, PA 17837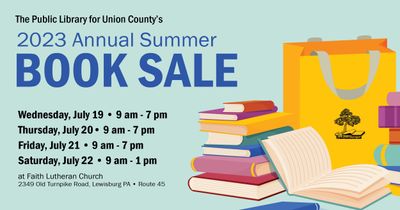 Summer Book Sale - Public Library for Union County
2349 Old Turnpike Road
Lewisburg, PA 17837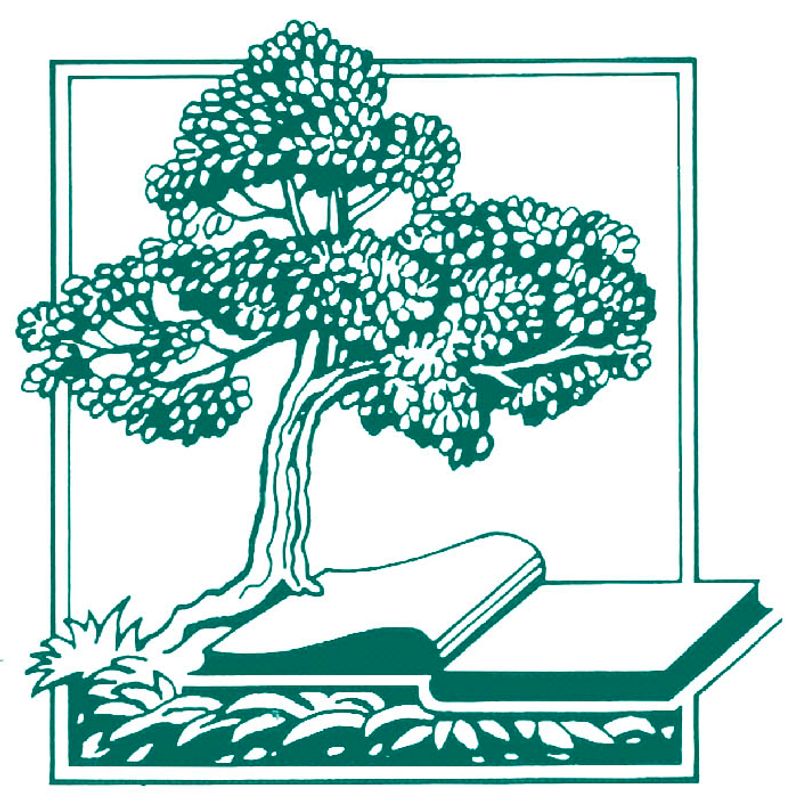 Public Library for Union County
255 Reitz Blvd
Lewisburg, PA 17837
570-523-1172
www.unioncountylibraries.org
Mon, Tue, Thu
8:00am- 5:00pm
Wed, Fri, Sat
9:30am- 5:00pm