Parking in Lewisburg
Downtown Lewisburg offers two free municipal lots on Cherry Alley. One is accessed from behind the Mifflinburg Bank on North 5th Street; the other is accessed from Market Street on North 6th Street. In addition there are numerous free, on street parking spots throughout the borough, on the side streets off of Market Street, and over 300 metered spaces available at 45 minutes for 25 cents.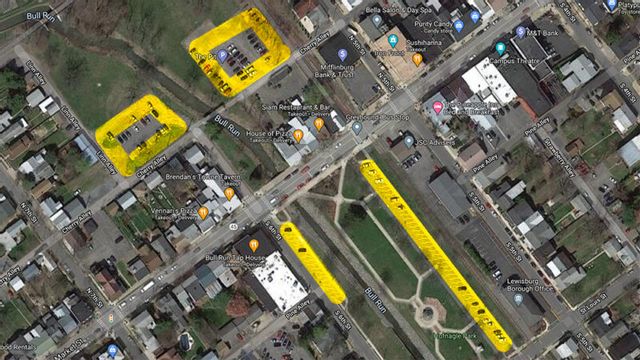 Public Parking Lots
Public parking is available at various lots throughout downtown. There is also street parking on most streets.

Parking Meters
Parking meters are in effect Monday through Saturday from 9 a.m. to 5 p.m. The meter rate is 25 cents for 45 minutes. Parking lot meters accept quarters only. Street meters accept quarters, dimes and nickels.

Street meters have a 3-hour limit, parking lot meters have an 8-hour limit.
All meters are free evenings and Sundays.

Parking Map
View the parking map to the right or download a PDF version of the map to print:
A Special Thank You to the Core Sponsors of the Lewisburg Downtown Partnership